gus van sant's latest film, "paranoid park", premiered this evening in the main competition at cannes. the film is about a young skateboarder who kills a security guard and decides not to say anything about it. similar to "elephant", van sant's 2003 golden palm winner, the cast of "paranoid park" is made up of young locals.
van sant actually put out ads on myspace looking for: "teenagers including but not limited to: skaters, honor roll, cheerleaders, punks, drama kids, musicians, artists, student council, athletes, award winners, class skippers, photographers, band members, leaders, followers, shy kids, class clowns, foreign language speakers ..."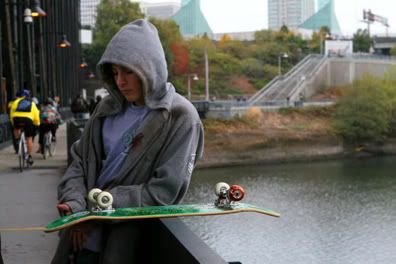 according to a review from ScreenGrab, the film is a "lyrical and evocative portrayal of adolescent youth". another reviewer, andrew o'hehir of salon calls the film "a visually lovely, semi-experimental riff on Dostoevsky's 'Crime and Punishment'".
the film is based on a novel by blake nelson and does not yet have an american release date.
other cannes premieres to look out for:
the new coen brothers film, "no country for old men", comes out in the US this november and stars tommy lee jones and javier bardem.
synopsis: "Llewelyn Moss finds a pickup truck surrounded by a bodyguard of dead men. A load of heroin and two million dollars in cash are still in the back. When Moss takes the money, he sets off a chain reaction of catastrophic violence that not even the law-in the person of aging, disillusioned Sheriff Bell - can contain. As Moss tries to evade his pursuers-in particular a mysterious mastermind who flips coins for human lives - the film simultaneously strips down the American crime drama and broadens its concerns to encompass themes as ancient as the Bible and as bloodily contemporary as this morning's headlines."
and harmony korine's latest film, "mister lonely", is set to be released in the US sometime this year. the film features diego luna as a michael jackson impersonator living in paris who falls in love with a marilyn monroe look-alike at a retirement home that suggests he move to a commune of impersonators in the scottish highlands (!).
Festival de Cannes