or don't know. i mean, i know of her, i don't know her personally if that confused you. anyway, that makes her the coolest person i know of.
her new book of short stories, aptly entitled "no one belongs her more than you", is getting rave reviews. she even made an awesome website for it called
noonebelongshermorethanyou.com
. and the book even comes in two different colors, yellow and pink: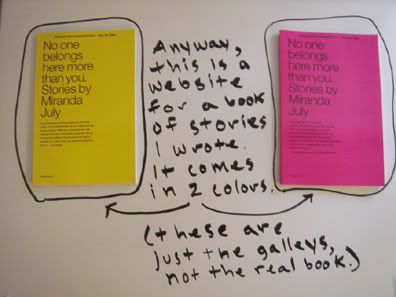 i am having deja vu...did i already post about her new book? when i posted that short film she made with john c reilly in it? anyway, i have made a few phone calls and finally have someone holding the book for me. get your copies NOW!
apparently she had a reading that no one told me about at the Hammer Museum on the 16th!
if you're in new york, she has a reading TONIGHT (the 22nd) at 192 books on tenth ave and 21st street. you have to call (212.255.4022) for reservations. and this friday (the 25th) she will be at the New York Public Library on 5th ave and 42nd street with special guest david byrne!
i have to stop blogging, i have an appointment to pick up her new book in ten minutes!