"my blueberry nights", the newest film by hong kong director wong kar-wai, premiered last night as the opening film of the 60th cannes film festival. (wong kar-wai was actually the president of the jury last year.) the film is the director's first in english and stars singer norah jones, along with a supporting cast that includes jude law, david strathairn, tim roth (!--who was also on the jury last year), natalie portman, and rachel weisz.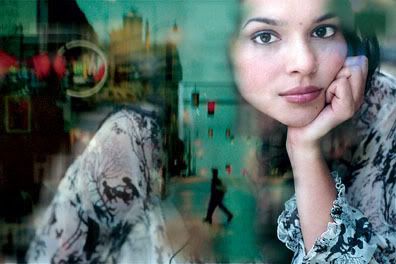 when i expressed interest in the film a few days ago, an uppity filmmaker friend of the family's (whose first feature was in a side competition in cannes last year, that's why i was there) told me that wong kar-wai's films were a "real undergraduate choice." hah. i told him that i thought one was supposed to get less pretentious once they graduated from nyu--oops! he never did.
anyway, i'm still eager to see the film. i read a smattering of uneven reviews and then i found
this one
, written by veteran film critic, a.o. scott, for the international herald tribune. according to scott, the film takes place in a "postcard america of diners and red neon signs, a land of heartbreak and second chances where folks play poker and drink whiskey'--which sounds like typical, sad romantic wong kar-wai to me. scott has some nice things to say about the film and he summarizes his feelings by saying, "my initial impression is of a sweet, insubstantial movie that might have been more exciting--more meaningful--to make than it is to see."
as of yet, the film does not have an american release date. i'm speculating that the director might plan on re-working the film a little bit before pushing towards further releases, since he himself noted that post-production was rushed and completed barely in time for the official cannes premiere.
if you haven't seen anything of wong kar-wai's, i would recommend my favorite movie of his,
chungking express
, and also,
in the mood for love
.