i'm glad that other people thought something was wrong with their tv at approximately 10:03 last night when the most anticipated moment of the sopranos series finale turned into a blank black screen. at first, i thought that meadow was shot as soon as she ran through the door after her frustrating parking dilemma (what was up with that?) however, i was left unsatisfiedly satisfied like the rest of east coast sopranos fans.
this is the new york times' cover picture (of the arts section, of course)--an homage to the final, quiet moments of the sopranos.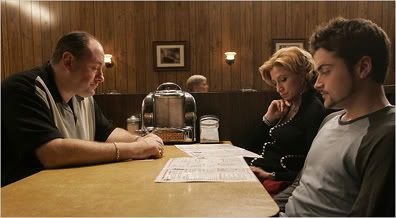 last night i thought i was more disappointed than i actually was. everyone was talking about how horrible the ending was and how absolutely nothing happened, but i didn't actually feel disappointed. i bet i would be more disappointed if someone in the family actually did get shot and we were left with a final, unfinished moment of bloodshed. the new york times' critic, alessandra stanley explains, "there was no good ending, so 'the sopranos' left off without one." and she's right. any ending would have been a letdown--the letdown essentially is that the show is over and it had to end somehow. ok, now i will stop analyzing my feelings about the end of the show. its too bad its over, but it was a "perfectly imperfect finish" as stanley writes.
i wonder how many people called time warner cable, though, asking why their cable went out.