according to his bio on coolhunting, photographer craig kanarick likes to wear purple suits.
that's all i can remember about him before i was led to his website
rockmade
. there i found a bunch of colorful pictures of candy that would drive my sweet-toothed friend, ally ruddy, crazy.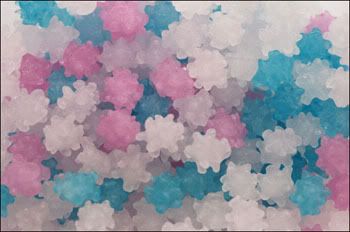 i stumbled around further on his website, unable to find any beneficial information about kanarick himself. what i did find, however, when i clicked on the "bookshelf" section, was the cover picture of a book i recognized from my pre-teen days called
'deal with it! a whole new approach to your body, brain, and life as gURL'
. i'm pretty certain that i remember my mom buying it for me at barnes & noble during my advance into womanhood. how embarrassing. weirder still, what did mr. kanarick have to do with this book about growing boobs and girly emotions?