marina tsvetaeva is one of the poets i grew closest to while i was in prague. she had a torrential life--she left russia before the revolution for prague, where she worked and had an illicit affair with a friend of her husband's, which she later wrote about in her best poems, "poem of the end" and "poem of a mountain". she then moved to paris where she tried to work and held a epistilary romance with the poet boris pasternak and rainer maria rilke. she later returned to russia, where she was sought after by the government, and ended her life by hanging out of terror for her soldier son's future. she was boyishly beautiful and had quite a temper that comes out in her writing. while in prague, my poetry teacher couldn't say her name without looking at me--said i made him think of her.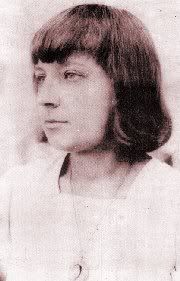 i couldn't choose one entire poem to put up here, so i'm putting up a section from my favorite poem, "poem of the end".
in wandering tribes of
fisherman brothers
drink without crying

dance without crying
their blood is hot, they
pay without crying

pearls in a glass
melt, as they run their
world without crying

so tribes of nomads
die without crying
burn without crying

so tribes of fisherman
in ash and song can
hide their dead man.