wow! this is my most exciting discovery in awhile! via
this french blog
, i stumbled upon a post telling of a book of polaroids taken by the famed russian director,
andrei tarkovsky
. if you haven't seen his films, you should. i'm still working my way through them, but the last one i recalling seeing was
nostalgia
and it was beautiful.
anyway, the book of polaroids is called
instant light
, and it contains polaroids taken by tarkovsky taken in russia and italy, with captions written by his son, which i found online
here
.
My mother, Larissa Tarkovsky, and Dak in Myasnoye. You may find a lot of similarities of these pictures with Gorkachov's dreams in Nostalgia.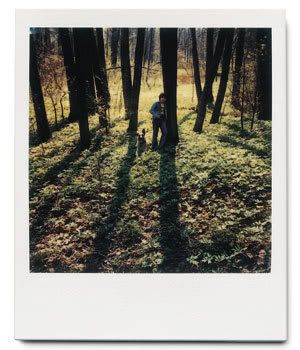 This is me and Dak in Vorobievi Gori, a park in Moscow, where we used to walk with my father.
This is the annual procession dedicated to San Gregorio, the patron saint of the city in Italy.
This is in Myasnoye, Russia, where my family had a holiday home.
My mother in the dining room of our Moscow apartment.
This is my father's boat near our house in Myasnoye. He was greatly attached to that place, where he could isolate himself and work on his scripts - the first drafts of Stalker and The Sacrifice were written there. He used to take long walks and these pictures are the memories of those promenades.
i've already added this to my
amazon
wishlist.