now, i've never been the kind of woman to order cosmos and other pink drinks. i've always preferred whiskey or even vodka, which i can swig down like water. my foray into absinthe, however, was a different story because absinthe exists in a mythical world beyond gender lines. although extremely strong and possibly deadly (not a girly drink in any way), absinthe has been dubbed "the green fairy", and has a seductive quality attached to it that only a woman can have.
so, while in prague, i became a big absinthe drinker. it actually started en route to prague, now that i think about it, since my boyfriend and i stopped in london for a brief jaunt about the town. there we came upon this decadent wine tasting attraction called
vinopolis
in this foodie part of town and out of the three offered tours, we decided to embark on the
"discovery tour"
. there, after a few wine tastings from the three worlds, we proceeded to get completely smashed as we also enjoyed a bombay sapphire gin cocktail, 2 beer tastings, 2 whiskey tastings, and finally, 2 absinthe tastings. absinthe was second to last, i believe, and we were pretty gone by the time we got there. maybe that's why when we were introduced to the spearminty, wintergreen taste, we felt absolutely no burn and fell in love with it. we tasted two kinds of
la fee
, the french kind and the bohemian kind (from the czech lands). i preferred the french kind, which i thought tasted less like mouthwash. it was also exciting watching the server perform this ancient ritual of carmelizing the sugar in a spoon and drizzling water through it into the absinthe. we left that place in the most lovely, drunken stupor i can possibly remember. we could barely walk, so we settled down immediately next door at the famed british noodle joint,
wagamama
, and now that i look back on it, that stupor is probably why i have been forever so attached to this noodle chain.
anyway, so come a week or two later, we are in prague. like all the other 5,000 college students there, we're drinking out $1 dollar beers all over the place, getting used to inhaling massive amounts of smoke in every single pub, and basically having a great old drinking time. finally, we go to this one crazy bar called
cross club
, which is more like an underground network of people with dreadlocks and industrial music. if you can imagine this, the place looks like a mix between terry gilliam's
brazil
and spike jonze's
being john malkovich
. anyway, since we were now in the bohemian lands, we decided to dive into a big absinthe tasting session with our new friends and we ordered a round of eight absinthes. our drinks came within seconds, which was curious since in london it took a few minutes for our server to properly distill our drinks. looking at the eight mini mouthwash-looking shots, we slowly came to realize that they were not distilled. well, we already ordered them, right? we all swigged down our absinthe--it was so strong, i couldn't take it down all at once. i did my shot in two parts. for the first 45 seconds, it leaves you frozen and burning, its unbelievably painful like your insides are melting from the heat of the liquor. for the last 15 seconds of the minute, you're in the weird, silent place where you have to decide whether or not you're going to throw up. but, then it all passes and you feel euphoric, seriously. not "wasted", or high, just laid back and euphoric...letting all that wormwood seep into your bloodstream.
so, i drank a lot of absinthe while in prague and it was never distilled. the czechs don't even know that it's supposed to be distilled. i've also had really bad absinthe at small shady bars where i'm pretty sure i was just drinking mouthwash. no matter what, its a good time, but a very strong drink, so you have to be ready for it. i'm pretty fond of
la fee
as i said, but my roommate managed to smuggle us a higher class bottle of french absinthe from berlin. apparently, it goes for $200 on the american black market.
last night, we finally decided to do a little tasting session of our absinthe, and we decided to do it the right way. so, we poured a bit of absinthe into a glass, took a spoon full of sugar and dipped it into the absinthe, so that the sugar absorbed that alcohol, then we lit the sugar on fire and waited for it to carmelize. this wasn't so easy since we were using brown sugar, which refused to liquify, and because we soaked the sugar in too much absinthe, meaning small drops of flaming alcohol kept dropping into the cup, setting the cup on fire, or dropping onto our kitchen countertop. after our first exercise in pyromania, where we had to put down the spoon and smother the flames, we finally succeeded in half-carmelizing some sugar to add to our absinthes and then added some water. our drinks were warm and cloudy, sweet and still incredibly strong. it wasn't like bohemian absinthe, which is just straight to the point and deadly, but it was a nice, cloudy american version.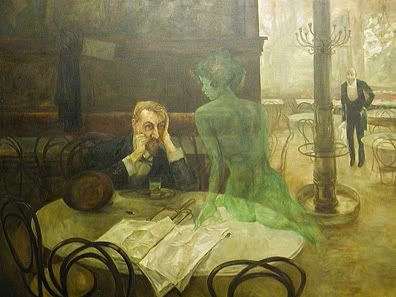 czech painter Viktor Oliva's most famous painting, "absinthe drinker", hangs on the walls of the famous "cafe slavia" on
narodni trida
in prague.
for those of you who don't know much about the history of absinthe, its ills and controversies, its wormood and the reason for its ban, then hurry up and educate yourselves
here
.