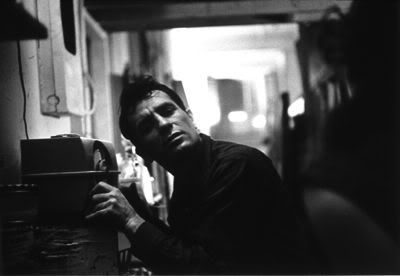 jack kerouac
by john cohen
today, during my long stroll down fifth avenue, i stumbled upon the kerouac exhibit,
beatific soul
at the beautiful new york public library. realizing that i had nowhere urgent to be, i let myself wander up the stairs and through the doors of what was to be a very extensive, detailed exhibition on the life of jack kerouac. i later found out, thanks to the trusty
times
, that the exhibit opened in celebration of the 50th anniversary of the publication of
on the road
. it also just came to my attention that it is to close this weekend on march 16th. how lucky i was!
if you can clear your schedule to visit the library, please do. bring your reading glasses--there is a lot of exciting information to devour, along with great photographs taken within kerouac's circle of friends.
my favorite quote from an early journal of jack's:
to be in a state of beatitude, like st. francis, trying to love all life, trying to be utterly sincere with everyone, practicing endurance, kindness, cultivating joy of heart.