I saw the most incredible film yesterday at the brilliant
IFC Center
:
4 months, 3 weeks, and 2 days
, directed by Cristian Mungiu, and winner of the highest prize at the Cannes film festival in 2007, the Palm D'Or.
i had sort been avoiding the film for awhile. i had read much about the difficult content (it's about a university student who helps her roommate attain an illegal abortion in 1987 Ceauşescu-run Communist Romania), plus heard horror stories about people having to leave the theater, my mom included. I am incredibly over-sensitive when it comes to films--I get way too engrossed in the action and tears often well up in my eyes as the characters undergo the slightest amount of pain or injury. And yet, I am a cinematic masochist--I love watching difficult movies, despite the horrendous mood they put me in afterward.
Anyway,
4 Months, 3 Weeks, and 2 weeks
was a challenge for me to sit through. It's incredible tense, with the camera movement (or unnerving stillness) constantly matching the building drama in the story. Manohla Dargis says brilliantly notes that the film "doesn't follow the action, it expresses consciousness itself." It's impossible for me to match her keen perceptive review...so just, please,
read hers
.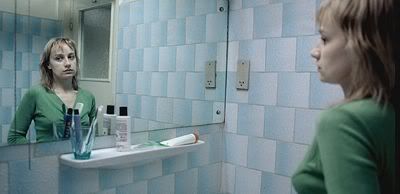 Also, be sure to check out Mungui's
director's notes
on the film's official website.