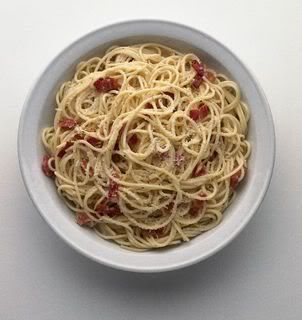 just stumbled upon
this
passage by calvin trillin, arguing for the replacement of spaghetti carbonara as the national thanksgiving dish. doesn't sound so bad, does it? (according to nymag,
this place
has the best carbonara in the city.)
ed levine
mentioned trillin's idea after suggesting to serve a bacon-wrapped turkey at his holiday table. i know wrapping practically everything in bacon is the IT thing in food these days (didn't padma, herself, declare this fact--give her anything wrapped in bacon and you are spared the ominous "pack your knives and go"?)--however, bacon-wrapped turkey? eh. i just heard from a friend who spent the holiday with a bunch of southerners in northern florida that they supped on fried turkey. can you imagine? a 20-something-pound turkey being dunked in a vat of hot oil? honestly, i'm voting for spaghetti thanksgivings from here on out.
p.s. speaking of spaghetti, i had pasta for the first time today at los angeles'
angelini osteria
. i ordered tagliolini with shrimp and asparagus and, after having stayed away from my favorite food group for approximately 6 weeks, it tasted better than ever.